BBC RADIO 4 COME A'VISITING
I nearly fell off my chair when Gardeners' Question Time – the world's longest running gardening broadcast – said they were coming to visit my plot. Here's a brief photo collection of what they saw…
PINEAPPLE GUAVAS (AKA. FEIJOA) Acca sellowiana
The perfumed fruit of pineapple guavas have to win the prize as easily the most delicious of all hardy 'exotic' fruit, somehow fusing the flavours of pineapple, strawberry, guava and candy floss all into one silvery grey fruit. They don't call this the 'fruit salad tree' for nothing!
Think those flowers look familiar? Well you would be right, the plants also live a double life as a common ornamental shrub that graces many a suburban back garden all over Britain.
However despite only being valued in the UK for the ornamental appeal of their glaucous evergreen leaves and pretty flowers, their fruit are a major commercial crop from Colombia to New Zealand and Japan to Brazil. For some reason is is just taking us Brits a while to cotton on to their charms, with the fruit currently only to be found on the shelves of fancy London department store food halls, where they are flown in from the other side or the planet and sold for eye watering prices. Trust me, if you had to pick bets on the next 'kiwi fruit' (i.e. a previously obscure exotic fruit to make it BIG) then this would be it.
Apart from good looks and fragrant fruit, this plant even offers up edible flowers (that have specifically evolved sweet, showy petals to encourage pollinating mammals to dust their fuzzy centres in return for a tasty treat). With a chewy marshmallow-like texture and a flavour like minty strawberries, they are one of the few edible flowers that are actually worth eating – and as you can pick the petals off without damaging the developing fruit you can indeed get two harvest from the same plant!
WASABI  Wasabia japonica
A close relative of the cabbage that thrives in damp shady corners where nothing else will grow & is completely resistant to cabbage white butterflies (the scourge of cabbage growers). The grated root is a seriously sought after Japanese delicacy used to create that wonderfully spicy green paste you get with sushi and on the ever-trendy wasabi peas.
Incredibly 95% of the 'wasabi' outside Japan actually contains no wasabi at all – it's just a cheap counterfeit blend of horseradish and mustard dyed green (!) – meaning that until very recently the only way you used to be able to get hold of the real McCoy in the UK was to grow it yourself. With it's altogether much rich and complex flavour, real wasabi is now being farmed by my mate James as a seriously premium condiment (a single stem is worth £30) down at The Wasabi Company in Hampshire. Look out for a full post on this story in the very near future!
LITCHI TOMATO

 Solanum sisimbrifolium
Now this is a great example of something that has failed my trials. I was excited to try it as a easy-to-grow tomato-like fruit, which is said to have a far superior perfumed flavour. Add that to the fact that as a common weed species in the Southern US it has an iron-clad blight resistance, thrives in drought & is super productive in the fruit stakes & I thought it would be a real winner. It even has showy, ornamental flowers. How could you go wrong?
Well after tasting one of its scarlet red fruit I very quickly realised (like many other edibles I've trialled) that there is a good reason why this isn't a major crop. The fruit have a strange flavour, somewhere between a watery tomato and a insipid inca berry (aka. Physalis). Not only do they taste bland and boring, but the flavour that is there sits rather uncomfortably between sweet and savoury. Not sweet enough to make a good fruit salad ingredient and not quite savoury enough to simmer up into a pasta sauce. Then of course there are the vicious thorns that cover the whole plant including the casing of the fruit. That means you get a free acupuncture session with each fruit you pick. Sadly I think this guy is going to have to join the roughly 50% of trial species that fail my tests.Hey if you don't give them a grow you'll never know…
PERUVIAN EARTH APPLE (AKA. YACON) Smallanthus sonchifolius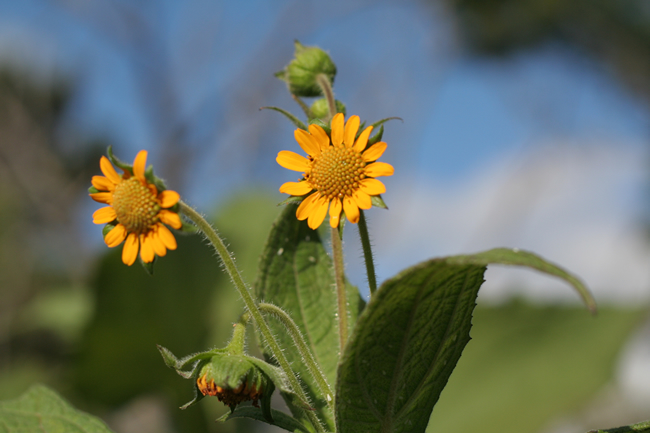 Super easy-to-grow members of the sunflower family that thrive in our cool wet summers, Peruvian earth apples (aka. Yacón) have to be positively the most productive root crop that can be grown in the UK. A single plant can produce up to an astonishing 10kg of sweet, sugary roots in a single season. They even have pretty, albeit rather small, yellow daisy like flowers atop their tall stems of exotic foliage.
Looking much like giant, dusty-skinned sweet potatoes, the flavour of the roots is altogether more crisp, refreshing and sugar cane-like – with a flavour somewhere between a water chestnut and an Asian pear. Their sweet flavour means they neatly straddle the culinary boundary between sweet and savoury – tasting as delicious in a oriental stir fry as they do in a tropical fruit salad.
Run 'em through a juicer and simmer the resultant liquid down in a saucepan for about 20 mins or so and you will get a thick, caramel-coloured, maple-like syrup that is delicious on waffles and pancakes. The best thing? The sugars they contain are not absorbed by the human body – creating a super low-calorie sweet treat. It is even a good source of pro-biotics that can help boost the levels of friendly bacteria in your gut & may even help boost your immune system in turn. Why this isn't a common UK crop I will never know!
EARTH APPLE SYRUP & CHOCOLATE CHIP COOKIES
Here's a delicious sounding recipe from one of my favourite blogs, sweetened with super low-calorie earth apple syrup. Click the image to get the recipe.
QUINOA (Pronounced "KEEN-WAH") Chenopodium quinoa
Basically just a great big, disco-coloured version of fat hen – the common garden weed – this superfood grain of the Incas is nevertheless incredibly easy to grow in the UK. Simply scatter the grains over bare ground in April and May and within days you will have a lush green carpet of tiny seedlings.
Come July the plants will erupt into bloom in a range of sunset hues that will easily hold their own in any flower border. Even their leaves are edible & can be cooked and eaten just like spinach, only without spinach's nasty habit of collapsing and going murky brown on cooking.
Incredibly just 6-8 plants will produce up to a pound of grain, making it one of only two grains (the other being maize) that it makes sense for UK home growers to have a go at.
QUINOA PAELLA
Once you harvest the dried seed heads, as whiz in a food processor will rip the grain from the stems and a good soaking and rinsing later you are ready to cook them just like rice or cous cous – such as in this fun Andean take on a paella.
Stunning, delicious and offering up two crops for the effort of one – make space for a few of these little babies and you will never look back!
For full instructions on how to grow, cook and eat  Wasabi, Pineapple Guavas or Quinoa check out my new book Homegrown Revolution!
7 Responses